Every day we're asked to lend our expertise to companies large and small, from multinational corporations, to small church and community groups, to the lone individual.
All of them have one thing in common: they are all trying to achieve their dreams of making a better life for themselves and the people they know and care about through getting their message in front of the right people in order to make money online.
That's why we've just launched the Affiliate Marketing Success Secrets area, creating The Affiliate Marketing Institute in order to guide people through the whole process of becoming a successful affiliate marketer.
We've also created a free 7-day ecourse for people who are eager to learn more about affiliate marketing, and how to get started online as an affiliate marketer.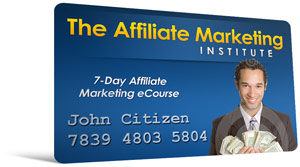 The content in the special membership site will be some of our best material ever written on how to become a successful affiliate marketer. It will  be taken from our affiliate blog and our own ebooks and other special exclusive insider secrets.
So if you're eager to get started earning money online today through becoming a successful affiliate marketer, just take a moment to register for the FREE ecourse on Affiliate Marketing Success Secrets. It only take a moment, and is fast, easy, and free!
Here's to your success as an affiliate marketer!