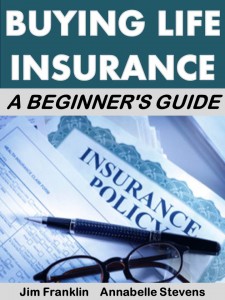 Do you have life insurance? And is your level of coverage enough to help your family survive if anything were to happen to you? Are you a woman? Do you work? Are you the head of the household? In any of these two cases, you should have life insurance, yet only about a quarter of working women do.  Get the facts about buying life insurance in this guide, free today on Amazon, or any time with your Kindle Unlimited membership.
No one ever wants to think about bad things happening, but planning for life's ups and downs carefully can make a real difference financially for your family. It will be difficult enough for them having to cope with a sudden loss, without adding money problems to the situation.
If you have a family or people dependent upon you for support, one of the most loving things you can do for them is to take out life insurance in case the unthinkable should ever happen. And life insurance is not just for working husbands either. Single mothers and work-at-home and freelance earners also need to consider seriously how their family would ever cope if they were to pass away suddenly.
In this beginner's guide to buying life insurance, the authors take you step-by-step through the many considerations you should keep in mind when thinking about buying life insurance. Who needs it, when, and why?
You will learn:
* The different kinds of life insurance policies available
* The pros and cons of each
* How to calculate how much insurance coverage you need
* How to use your insurance policy as a investment if you do not pass away.
You will also discover:
* The various payout options for life insurance policies
* How survivorship life insurance works
* How insurance can be used as a valuable business tool in certain instances
* How certain types of insurance policies can be very useful for estate planning.
Buying life insurance may not seem the most cheerful thing to think about, but you will probably be surprised by all the benefits it can bring. Your family's financial security rests on you making the right decisions to help protect your future.
If you are:
* Not insured yet
* Fear you may be underinsured
* Want to have more financial tools in your hands to build your wealth
* Want to leave a legacy behind for your loved ones
* Want to protect your family from financial disaster due to unexpected events
then get started on the road to better financial security today with the help of this guide.
==
Word Count=7,500
PLUS a 27-page PDF Overview of the main points of this guide for you to download, print, and discuss with your partner/spouse and insurance broker.
+++++++++++++
BUY NOW=Buying Life Insurance: A Beginner's Guide
=====
TABLE OF CONTENTS
INTRODUCTION
* Why Buy Life Insurance?
* Who Needs Life Insurance?
CHAPTER 1: SHOPPING FOR LIFE INSURANCE
* How Much Life Insurance Should You Get?
* How to Calculate What Money Your Family Will Need in the Event of Your Death
CHAPTER 2: TYPES OF LIFE INSURANCE
* Term Life Insurance
* Whole Life Insurance
* Universal Life Insurance
* Variable Life Insurance
* Survivorship Life Insurance
CHAPTER 3: HOW TO USE YOUR LIFE INSURANCE POLICY AS A FINANCIAL PLANNING TOOL
CHAPTER 4: LIFE INSURANCE PAYOUT CHOICES
* Lump Sum Payment
* Annuity Payments
* Annuity Payment Options
CONCLUSION
ACTION STEPS
BUY NOW=Buying Life Insurance: A Beginner's Guide
=====
ABOUT THE AUTHORS
Jim Franklin and Annabelle Stevens are the authors of over 20 step-by-step self help guides . Their goal is to help you live better for less.